Wine Bottle Puzzle / Cryptex / Brain Teaser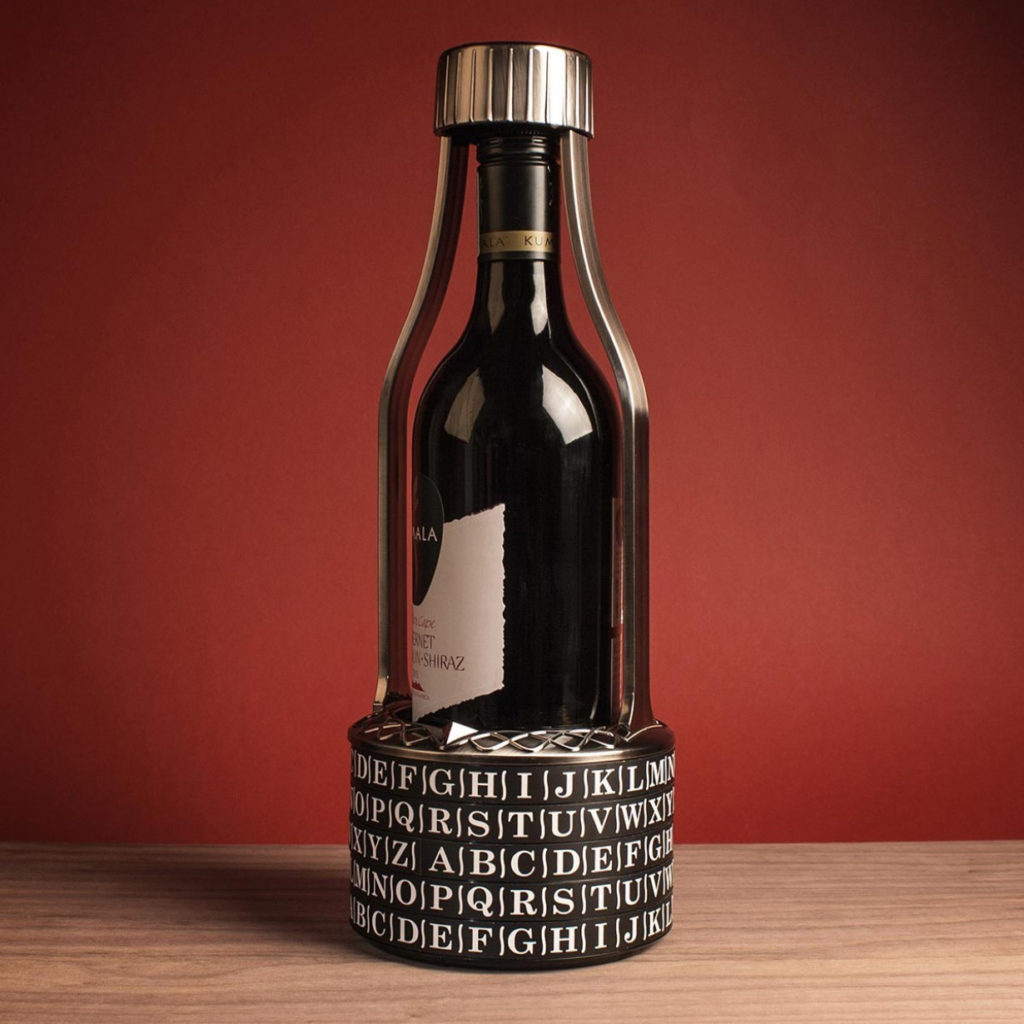 A wine bottle puzzle to cure a boring gift. You've probably given someone a bottle of wine for a birthday or other occasion. It's the fall back gift to go to when they don't really need anything and you can't think of much else. Wrapping paper can't disguise what it is, why bother. The common metallic decorative paper gift bag with a bow is a dead giveaway. When gifting wine next time, you might pose them the question, "Are You Game?" Vino Vault wine bottle puzzle cryptex gives you the opportunity to give the gift of amusement, fun and adventure ala Da Vinci Code. Taunt them, tease them with this brain teaser puzzle / wine game – send them off on your own customized treasure hunt with the goal of cracking your cryptex code after which they'll  get your wine – a delayed gratification so to speak.  Great for a funny wine gift. You can choose to make the game last 5 minutes or 5 years – it's entirely up to you. Maybe you're giving a red that needs to age, so not have some fun during the wait? Make a great wine gag gift for someone who has it all.
Choose your own five letter cryptex code word or take a look in our code bank.
Set up your new code in the vault. It's fairly easy and we have easy to read instructions as well as videos clips to guide you.
Choose your bottle. There are some size and shape limitation the bottles that can be accepted. See Maximum Bottle Size page.
Design your game
Customizing your cryptex is the fun part. There are no rules. You make the rules. Here are some concepts to get you thinking.
Email, call, or text them clues at frequent as you like
Spread out clues among their friends, family members, coworkers, or anyone.
Choose a clue related to a billboard, street sign, or store that they regularly pass by.
Choose dialogue from a movie, could Jack Nicholson or Tom Hanks have a clue for them?
Perhaps they are on a honeymoon or vacation – are the clues hidden on a hiking trail or at the top of the peak?
Does a lyric or song title have some meaning?
Maybe a clue is embedded in a novel, like the "The Da Vinci Code?"
Is a clue taped or on a "post it" underneath the table at their usual lunch spot?
Could the message written out on the bottom of the ocean floor with broken pieces of coral at one of their favorite dive spots? You get the idea. The list is endless. You'll come up with your own unique game!
Don't forget to check out our gift cryptex puzzle: Puzzle Pod, Puzzle Pod Junior, and Puzzle Pod Mini.