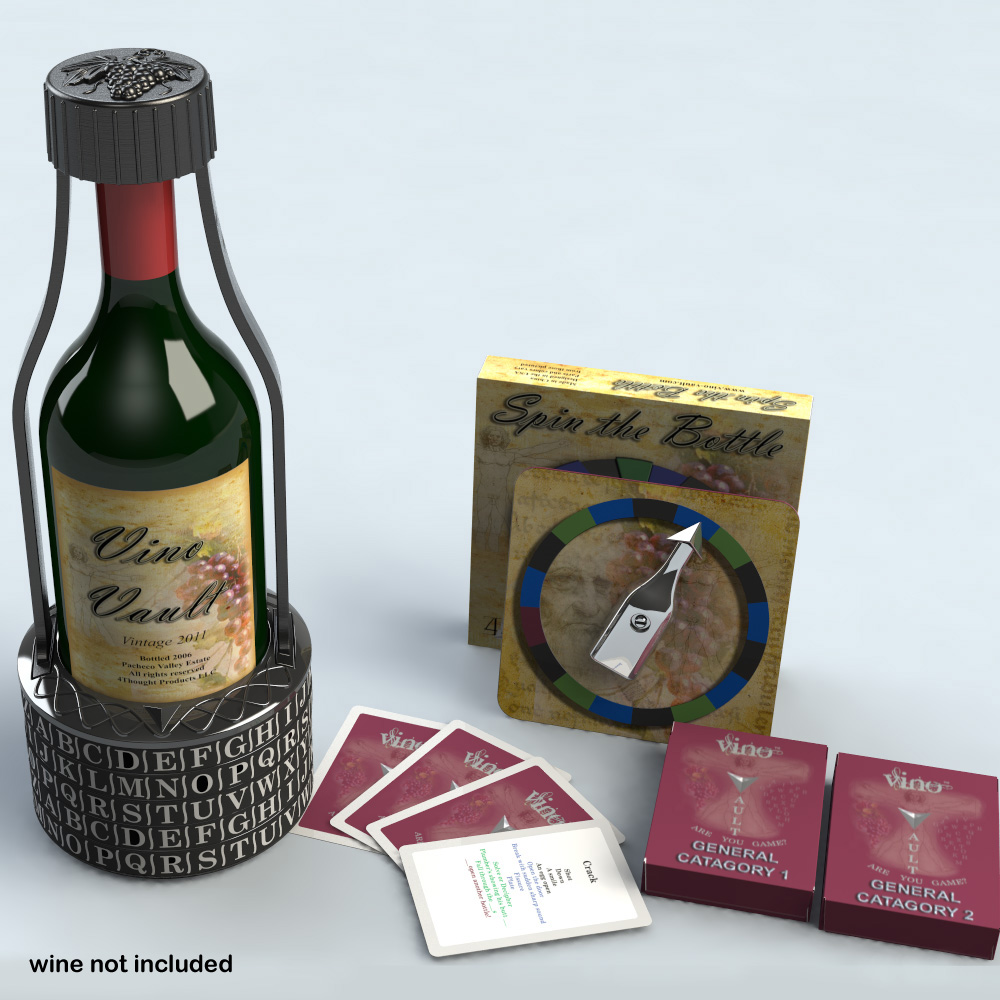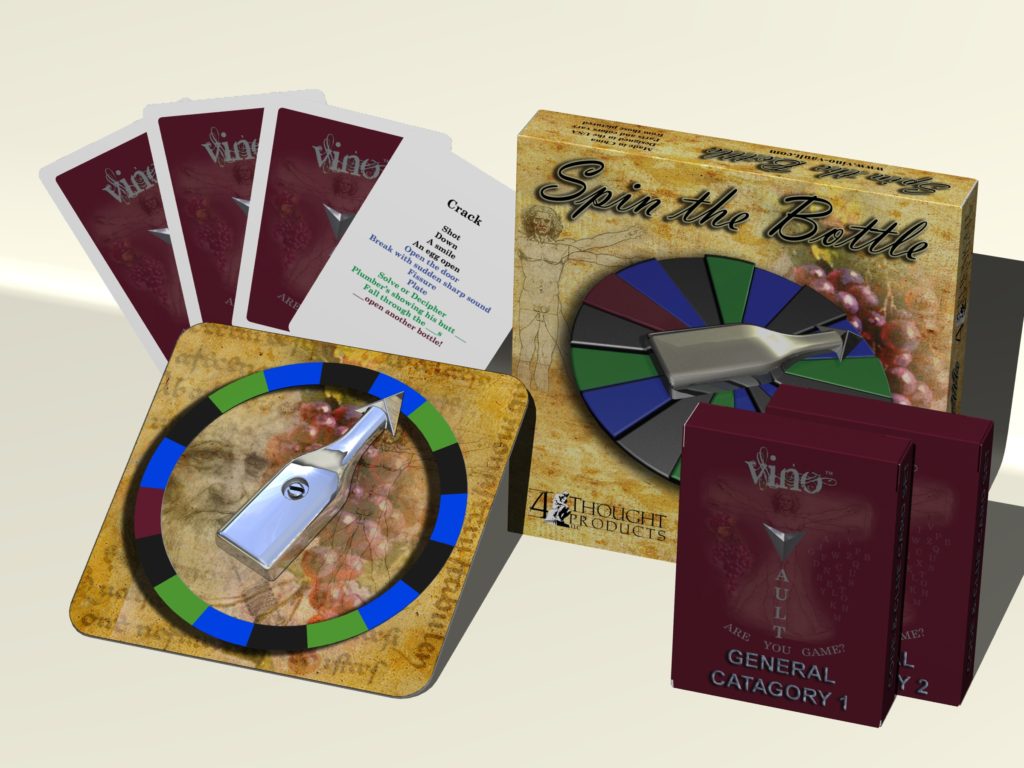 Spin the Bottle™
Vino Vault™ companion game
Ages 21-101
4-10 couples/groups
Description:
Spin the Bottle is a fun adult dinner party game that allows guests to exchange bottles of wine.
Object:
Crack the codes by solving game clues that allow you to open the Vino Vault and capture the bottle inside. Watch out! Unless you have amnesty, someone might capture your bottle. Enjoy good company, food, and wine in a party atmosphere while playing a fun adult game. At the game's end everyone will take home a different bottle. The better you are at solving clues and cracking codes, the better chance you'll have at capturing your favorite bottle of the evening.
Contents:
(1) Spinner Board
(2) Spinner parts
(100) Code Word and Clue Cards, (2) Decks of 50
(1) Game rules / directions sheet
Overview:
Spin the Bottle is to be played around a table while tasting wine and food pairings at dinner parties or other events. It can be played leisurely during the course of the event with breaks taken to get up and socialize. Although hosts can provide the food & wine, it's much more fun if guests participate by bringing a food paired to match along with two identical bottles of wine. The theme of the game could center on a particular wine type such as reds, whites, blends, or more to a specific varietal like Merlot, Cab, Shiraz, etc. Themes could include wine regions such as Sonoma, Paso Robles, or appellations like Carneros, Alexander Valley, or McLaren Vale. Not to suggest gambling by any means, you could propose a price range so that you don't end up with someone bringing (clue: a four letter word typically used to describe something unsavory), unless of course that's the theme of the party…which could also be interesting.
Games:
Disclaimer:
THIS GAME IS INTENDED FOR PERSONS OF LEGAL DRINKING AGE ONLY
1. 4Thought Products does not assume liability for those who disobey their local laws in regards to any activity or idea drawn from this site. 4Thought Products makes no representations that the materials contained within this site are appropriate for locations outside the United States or for all states within the United States. Any and all information contained within this site, including but not limited to, products, information, instructions, and services, applies only to those provided or offered within the United States.
2. Spin the Bottle game is intended for responsible adults of legal drinking age who wish to drink wine in new and fun ways. It is intended for entertainment purposes only. In no way does 4Thought Products condone or support the abuse of alcoholic beverages. We believe in moderation and caution when using our products, which is in no way intended to promote binge-drinking, alcoholism, underage drinking, hazing, drunk driving, or any other form of alcohol abuse. The product can be fun and entertaining with non-alcoholic beverages as well.
3. 4Thought Products cannot assume any responsibility for the effect that our content or game may have on people. Every person should consider their health before participating in any game involving alcohol. Once again, our content has been published for the sole purpose of amusement and novelty. Use of the game product and alcohol may be bad for your health and have serious consequences such as personal injury or death.
4. Information on this web site is provided "as is" without warranty of any kind, either express or implied, including, but not limited to, the implied warranties of merchantability, fitness for a particular purpose, or non-infringement.
5. Information on this web site may contain technical inaccuracies or typographical errors. Information may be changed or updated without notice. 4Thought Products may also make improvements and/or changes in the products and/or the services at any time without notice.
6. ALWAYS obey your local, state, federal, and national laws when using our game products. It is simple, if you are too young to drink, DON'T!
7. NEVER DRINK AND DRIVE! Do not operate any mechanism, machinery, automobile, or other equipment that requires coordination. Do not put your life or others in harm's way. These products were created for the sole purpose of amusement. We do not want you to cause harm to yourself or others.
8. Alcohol can be lethal. Excessive consumption of alcohol is not supported and will cause irreparable harm to your body.
9. Please DRINK RESPONSIBLY!
10. Seek professional help if you have a drinking problem! (http://www.aa.org)