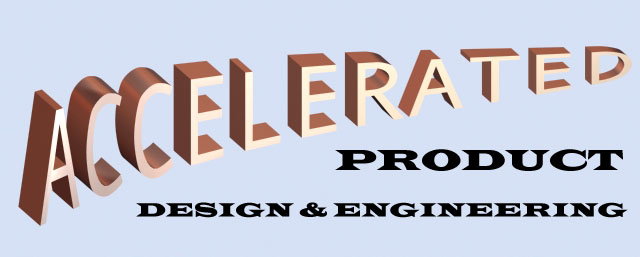 Accelerated Product Design and Engineering (APDE) is an engineering & product development consulting firm dedicated to helping companies, inventors, and entrepreneurs introduce successful new creative products and innovations. My second business, 4Thought Products, manufactures and distributes products invented "in-house."
I have worked with a variety of companies and industries to help develop a wide range of products and equipment. These have included consumer electronics and goods, computer & networking products, medical device and equipment, industrial / analytic testing equipment, and more. Collaboration has been within companies, consulting for design firms, and as a freelance mechanical engineer.
Good design essentially boils down to this:
The end product must combine function with eye catching aesthetics, safety, reliability, cost effectiveness, and ease of manufacture. All of which must satisfy the end user, market, or industry.
I start each project by listening carefully and discussing with you what your goals are. The most important aspect in development of anything is a clear understanding of any challenges, problems, or parameters involved. Often one needs to step back, think outside of the box, take a fresh approach to look for the best creative solutions – and sometimes break paradigms. There can be elegance found in simple solutions.
Past work has included everything from photo renderings (less than a day) to full development – product concept to overseas high volume manufacturing. Depending on your project requirements, I can contribute at any stage of the cycle – as your primary design engineer or to supplement and support your existing team. Engineering, prototyping, and manufacturing experience coupled along with an in-depth knowledge of CAD and graphics tools (Solidworks & Pro/E) allow me to deliver the solutions you are looking for in a short period of time.
The pages on this website show just a few examples of past designs, to illustrate some of my background and capabilities. Please contact me and I would be happy to talk with you in regards any support you might require.
Thanks for visiting,
Steve Small, P.E.
Principal / Mechanical Engineer
Novato, California